Only use the following instruction if you have already had your Administration Account activated. If you are looking to use ChiPoster for the first time please contact our support team.
Here is how to order and set up an additional user. There are 3 main steps.
1. Ordering the module in Chameleon-i.
From the Main Menu select 'Admin'.
On the order panel look for the line item 'ChiPoster Vacancy Aggregator'.
Click the 'Order' link.
You will see the following pop-up.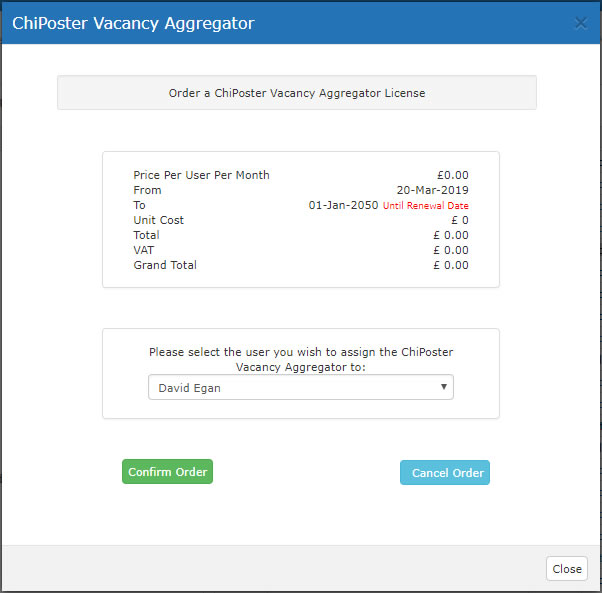 Select the user from the Dropdown list you want to enable.
Press 'Confirm Order'.
2. Setting up the user in the Admin Portal.
First, open the Admin portal via http://www.vacancyposter.com/vacancyposter/index.zul.
Select 'Maintenance' from the Menu options.
Now select 'Users & Groups'.
You will see your Company Name in the Company Structure Box.
To the right, you will see 'Add User'.
Select 'Add User'.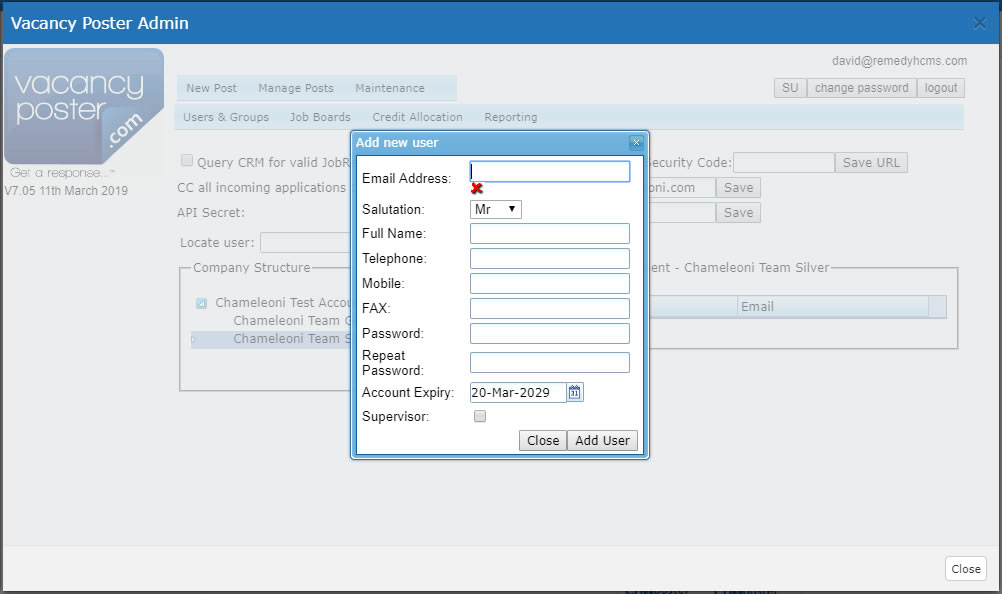 Complete all relevant fields in the pop-up.
You can select to make the user a Supervisor, please note that this will give the user access to the 'Maintenance' section where they can edit users, job boards and credit allocation. Only select to make a user a supervisor if you want them to have these privileges.
Make a note of the Password you will need that for the next step.
3. Setting up the aggregator details in Chameleon-i.
From the Main Menu select 'Admin'.
Then select the 'Users' tab.
Select the User who you want to permission to post vacancies from the drop-down.
In the middle column press 'Aggregator Details' button.
You will see the following pop-up.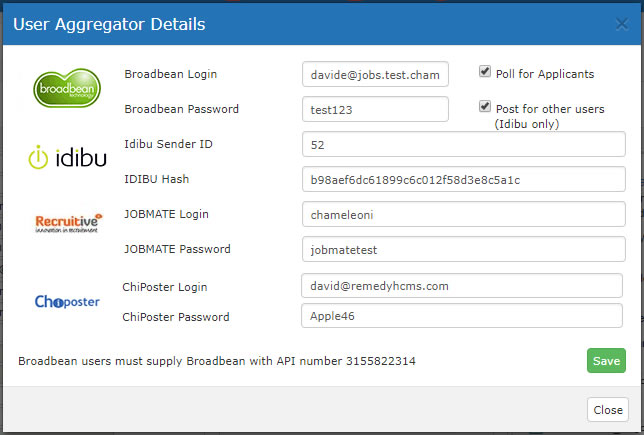 Enter the login details, users email address and the password you had previously set.
Press 'Save'.
The User should now refresh Chameleon-i.
Once refreshed they will be able to see the ChiPoster post and admin buttons in the 'Vacancy Posting' tab as shown below.
You now need to set up the users posting privileges and allocate posting credits for the job boards that you subscribe and pay for.
We have prepared a separate help document to cover this in the ChiPoster section.