Some hints, tips and tricks to help you post your vacancies smoothly to your job boards.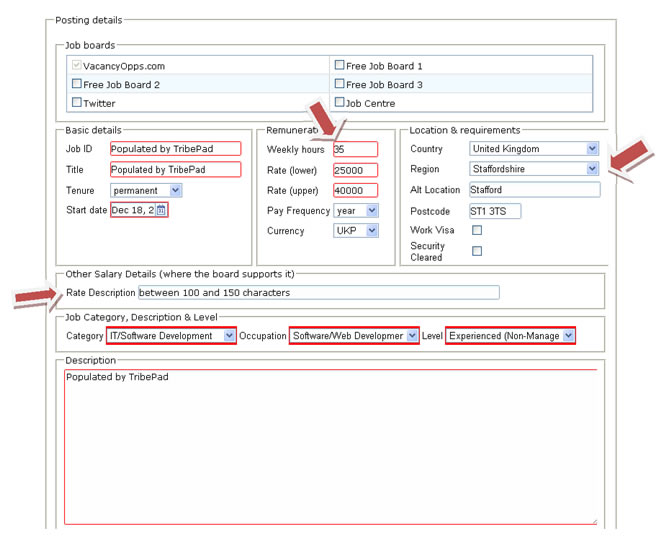 Weekly Hours – This can be left at 35 for a full-time role. 35 Weekly Hours indicates a full-time position and 16 hours or less is a part-time role. Changing it to 0 (zero) could denote a part-time

On hourly paid jobs, some job boards display an annual salary calculated from Weekly Hours x Rate Upper x Pay Frequency (eg a 35-hour role paying £10 per hour could show as £18200 per annum.
Rate Lower and Upper – no currency symbols or commas, so £40,000 is expressed as 40000 and £12.50 is expressed as 12.50
Pay Frequency – this should reflect how the given salary is expressed (£40000 per year, £15 per hour, £150 per day etc.
Region and Alt Location – always choose the most appropriate combination for the If in Region you choose the county, in Alt (Alternative) Location choose the town etc. NB – This does not apply when choosing something other than the UK or South Africa as there are no Regions to choose so only County, Alt Location and Postcode are used.

NB if you want to add multiple locations in Alt Location field, you can achieve this by comma separating the values EG London, Bristol, Manchester

IMPORTANT – maximum of 3 place names and places MUST BE names of Villages, Towns, Cities or Counties NOT names of Buildings, Streets or Roads.
Other SalaryDetails – as it suggests not all boards support this option, but it does not hurt to add up to 150 character description (inc spaces) something like 'excellent package plus benefits it is really to help attract the application.