The Candidate Repeater enables you to send a Candidate summary to Clients.
There are 3 easy steps to be able to send a Candidate summary by using Templates, Placeholders, and Baskets.
Step 1
In the CMS tab within the Admin panel, create a new email template with the name:
Email Template Client - Candidate Mailer
This will be the email you send to your Client, so add all of the words you want here and we will insert your candidate list wherever you put the placeholder.
The placeholder you will need to insert is: [[Custom.Repeater.candidate mailer]]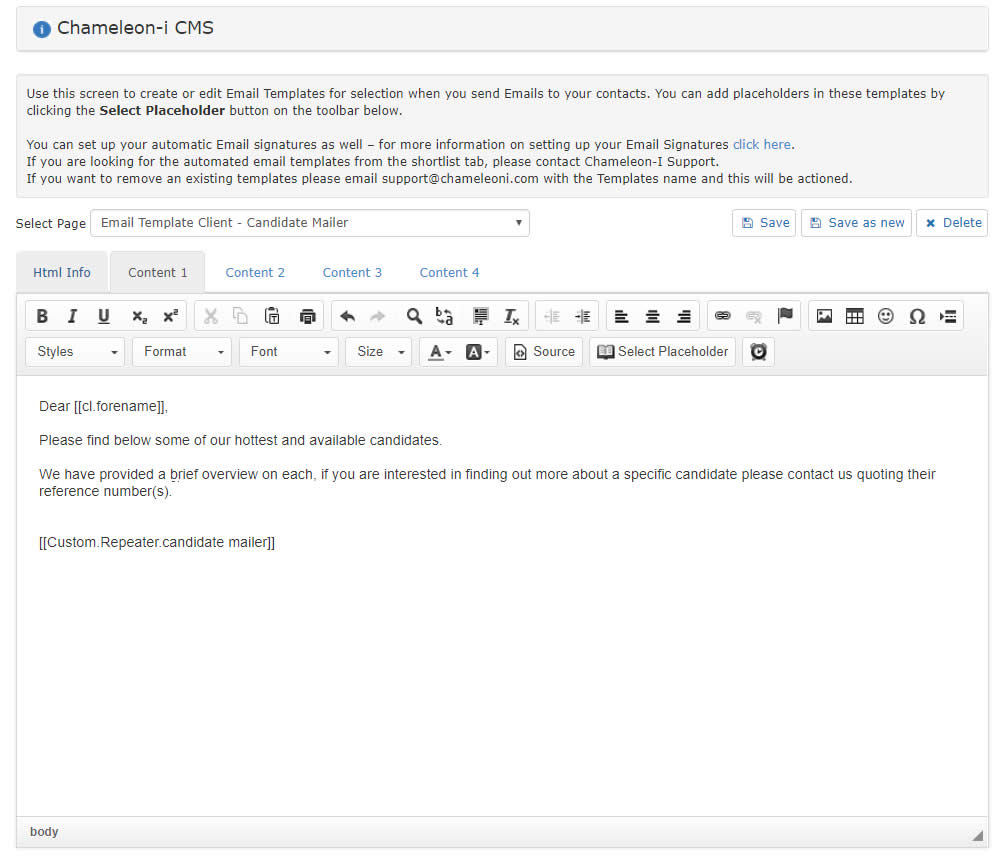 Step 2
Change from Email Template to Web Pages.
Create another new template, this time called Repeater.Candidate Mailer
This is a template for one candidate, you can add whatever fields in here you wish to show off to your client, we will repeat this template for every candidate you have in the basket.
You can find a selection of Placeholders to build your summary in the 'Select Placeholder' button - be sure to select Candidate placeholders only.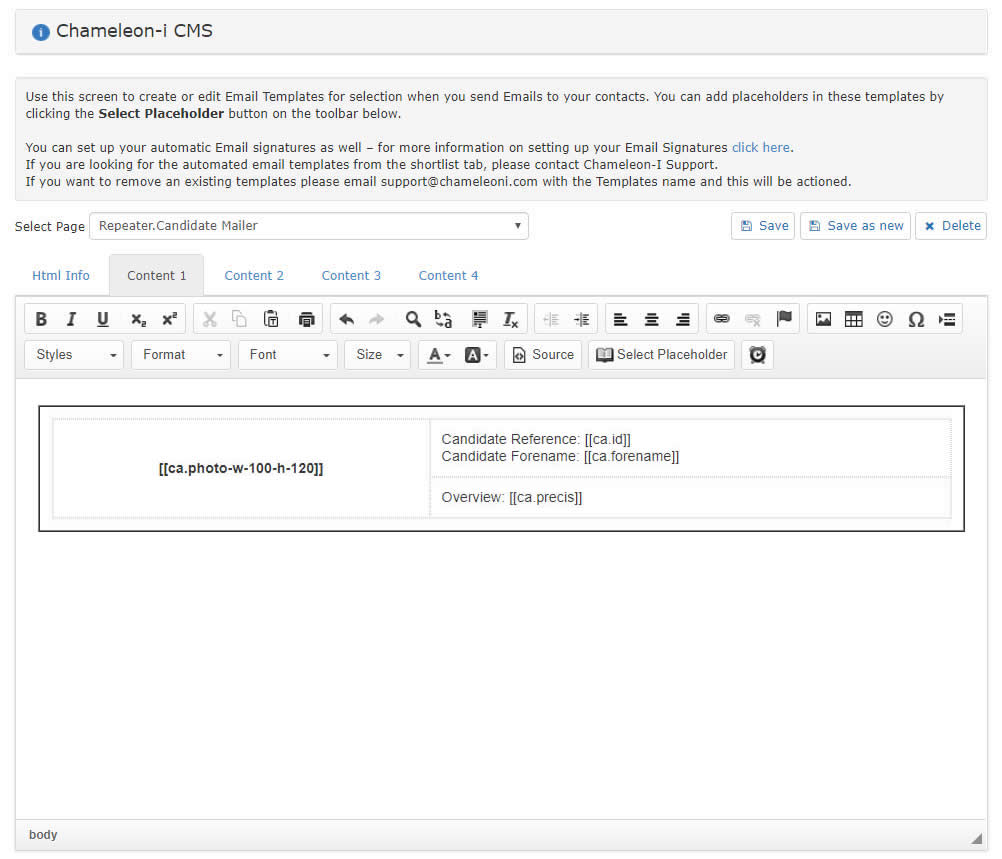 In the example, these are the placeholders that were used;
[[ca.photo-w-100-h-120]] - Displays the photo associated with the candidate
[[ca.id]] - Displays the candidate reference
[[ca.forename]] - Displays the candidate forename
[[ca.precis]] - Displays the summary associated with the candidate
Step 3
The last step for setting up your Candidate summary is to create a Basket called 'Candidate Mailer', and in here you add all of the Candidates you want a summary of to be sent to your Clients.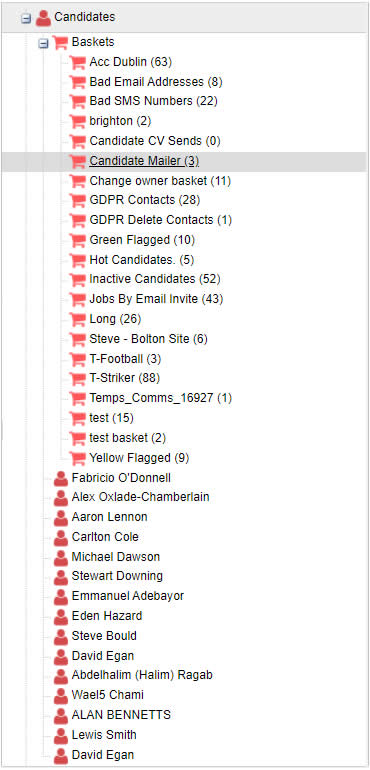 When sending the email to send to Clients, select the Candidate Mailer template from the drop-down. You can even run this from a client basket using bulk email - you can send many candidate profiles to many clients in one easy wizard.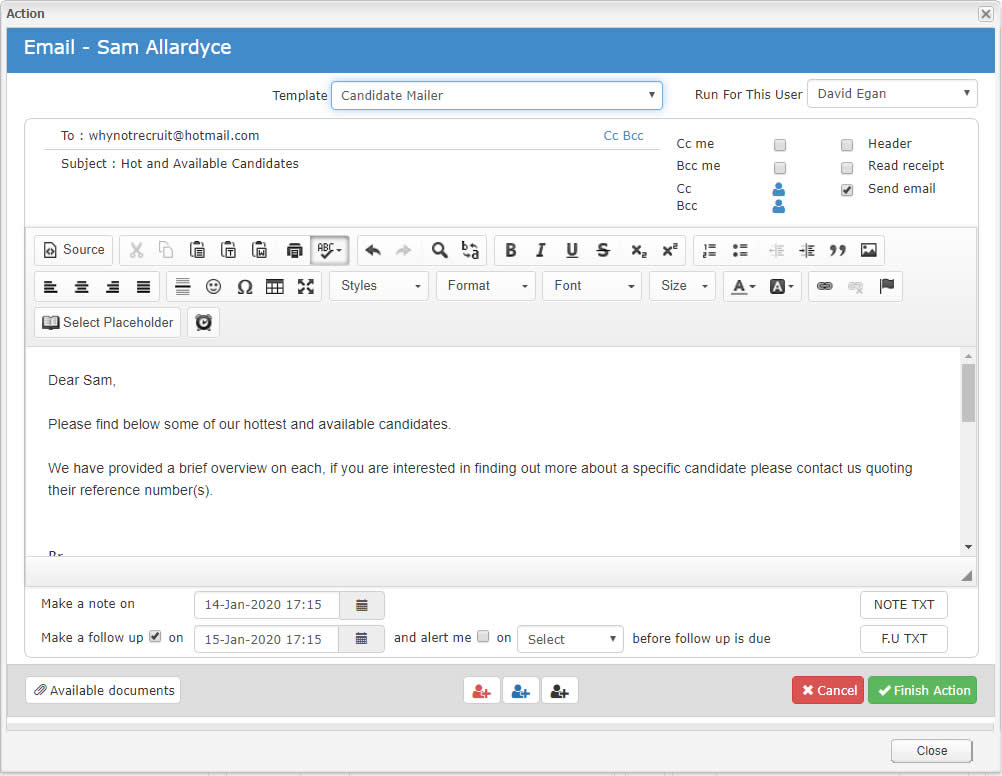 Below is what the email will look like when it appears in the Client's inbox.