This article will guide you through setting up the Jobs by Emails Module.
Once you have purchased this module you can set the frequency of email alerts, who the alerts are from and the criteria that match vacancies to be matched with candidates.
Select 'Admin' from the main menu.
From the 'Company' tab press the 'Setup' button next to Jobs by Email in the Chameleon-i Options panel.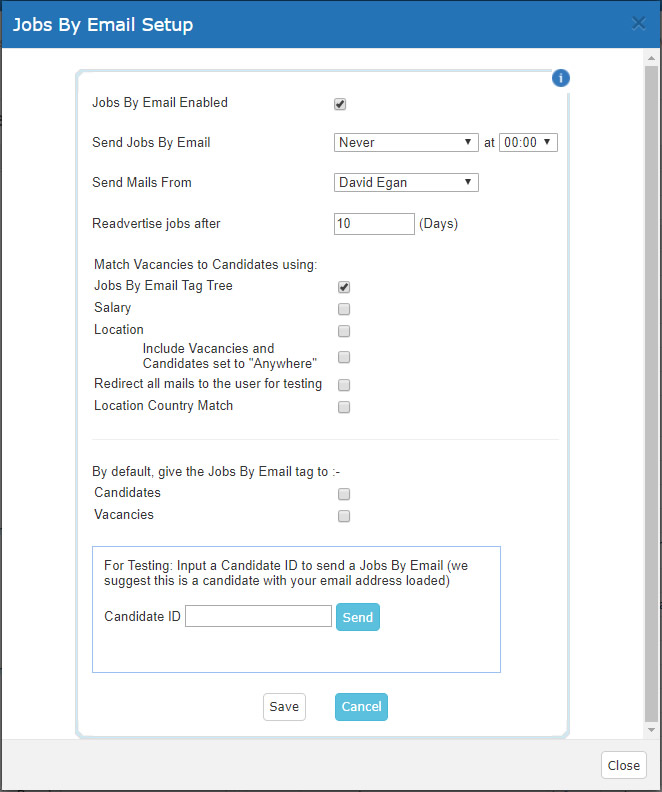 Firstly enable jobs by email by ticking the tick-box.
Select the frequency and time that Job by Email sends the emails to your candidates.
Select who you want the emails to be sent from.
Select if you want to automatically re-advertise the jobs after a set time period.
Select the criteria for matching vacancies to candidates.
You can specify which records get the Jobs by Email tag, depending on how you want to search for that tag.
Always test your settings before emailing your candidates! Enter a test candidate into Chameleon-i and using their candidate id check you are happy with the jobs by email output.
If you are happy with the test results press 'Save' to complete the setup and set the module to run live.
Note: You can only match to Location OR Location Country Match.
The Jobs by Email service will only send your latest opportunities to the candidate.

To test your settings select the tick-box labelled Redirect all emails to the user for testing. Test Emails will be sent to the consultant named in the Send Mails From drop-down box.