As part of the jobs by email setup, you can structure tags for candidates to select to match themselves against vacancies. This article explains setting up the tags.
When candidates register for jobs by email, they are able to select the type of jobs/roles they are interested in. The 'Jobs by Email Tag Tree' enables you to set this up agency-wide and make it specific to your vertical(s) and or industries. To define the tags that are shown in the 'Jobs by Email Tag Tree' to your candidates, you will need to build enter them as follows:
Select 'Admin' from the main menu.
Select the Tags tab to open the Tag Management screen.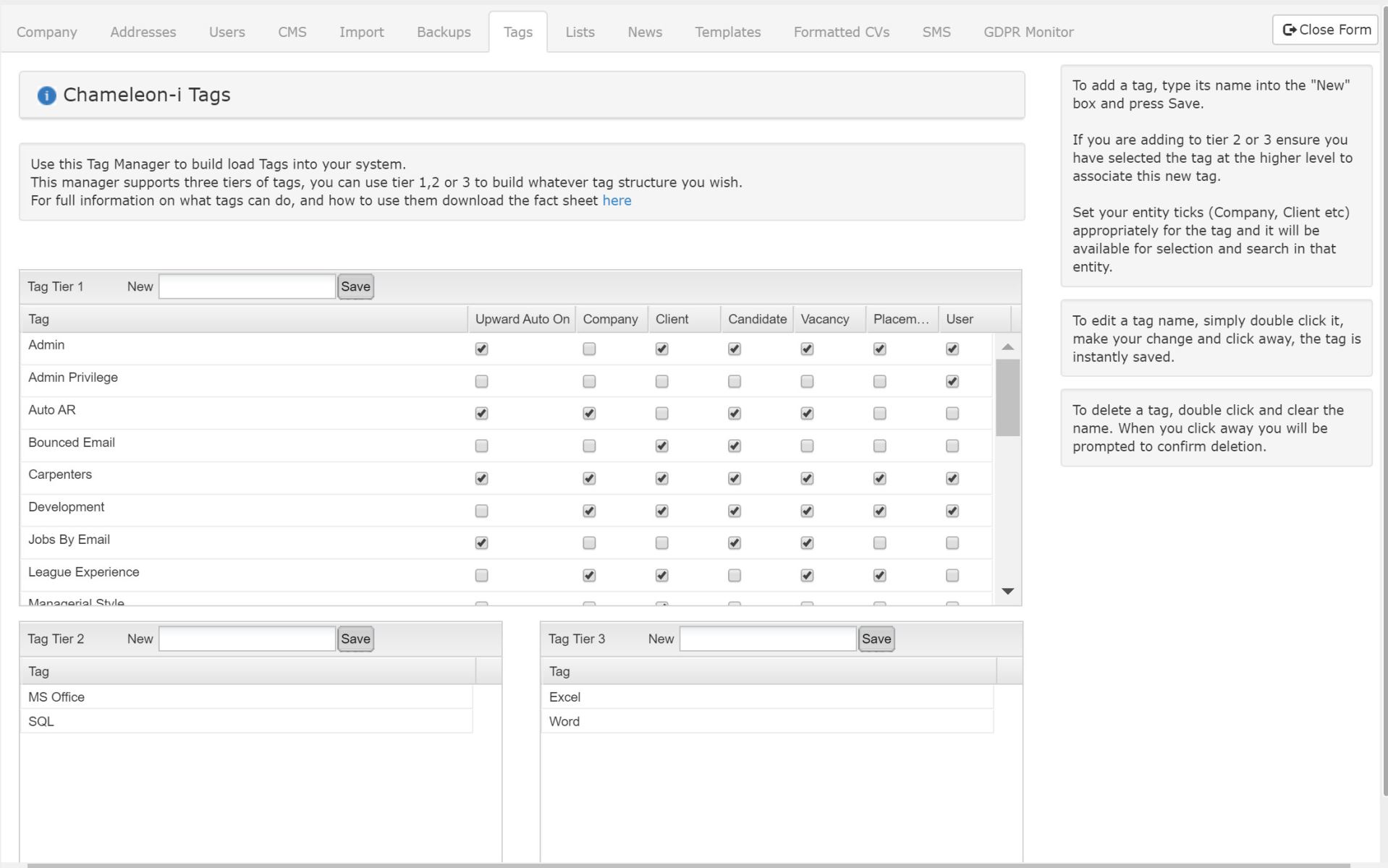 From this screen, you will see a new Tier 1 Tag labeled 'Jobs by Email'. Click on it so it is highlighted.
To add your Tier-2 Tags, type the Tag name into the text box label 'Tag Tier 2', and click the 'Save' button after each entry.
Once your Tier-2 Tags are in place you can associate another level of tags to them giving you candidates more refined matching.
To associate a Tier-3 Tag to a Teir-2 tag, click on the 'Tier-2 Tag' so it is highlighted, enter the new associated tag name into the box labeled 'Tag Tier 3' and click the 'Save' button after each entry.
NOTE: The tier 1 Tag Jobs by Email must not be deleted as this is used to pull the relating information through to the registration page.
Example Tier 2 tags: List the sectors that you operate in. i.e. Financial, I.T. etc.
Example Tier 3 tags: Depending on how your agency runs you can list either Job titles/roles or more generic job types here. i.e. Financial Advisor, Systems administrator or Sales, Marketing and Management.