The company tab within the Admin section of Chameleon-i enables you to set company-wide preferences and access your account details to purchase additional user accounts and modules.
Below we detail each element and what should be stored.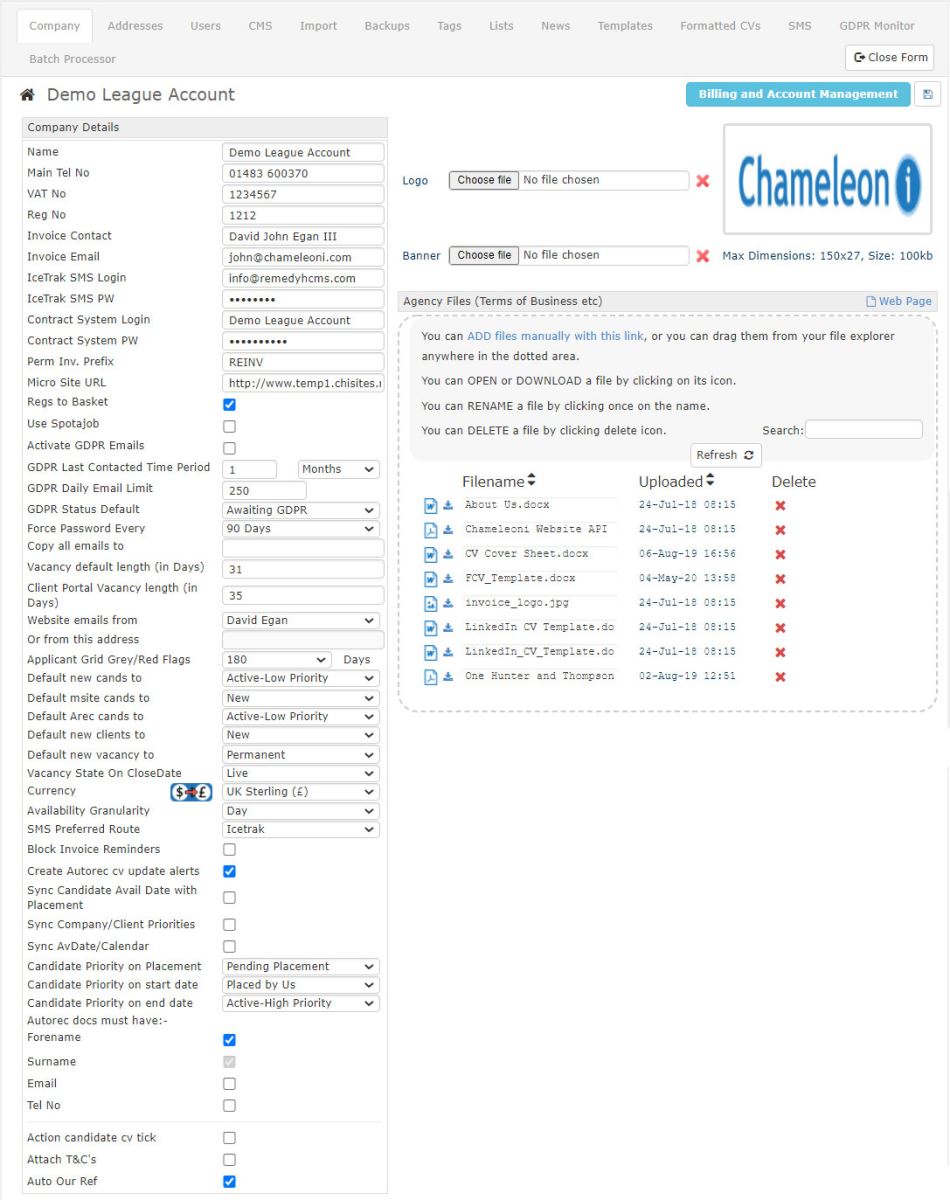 Name- This is your agency name - it is read-only and cannot be edited. If there is a typo and you wish to update your trading name please contact us.
Main Tel No. - This is your agencies main contact number
VAT No. - You agencies VAT no, this will be used if you generate permanent invoices via Chameleon-i.
Reg No. - Your agencies registration number again used for invoices via Chameleon-i.
Invoice contact and email address - This who and where we will send your monthly usage Invoice. If no address is entered, invoices will be sent to the primary user (the person who signed up first).
Your SMS & Timegenie user logins go in here.
Permanent Invoice Prefix. - invoices created by you in Chameleon-i will carry any prefix you set in here.
Customers with an Integrated Website will use this section for their URL and preferences for registrations to go to a dedicated basket.
Regs to Basket option means that any website registrations will go into the Web Registrations basket. Remember to create the basket yourself.
Use spotajob - enables your agency to post jobs for free to the job board spotajob.com.
Activate GDPR Emails - Enables the automated GDPR emails to be sent to candidates.
GDPR Last Contacted Time Period - sets the period since the last contact date on a candidate record to activate a GDPR email to be sent to the candidate.
GDPR Daily Email Limit -set the MAX number of GDPR emails to be sent daily.
GDPR Status Default - Set a system wide GDPR status default.
Force Password Every -Set the frequency that users are forced to change the Chameleon-i login password.
Copy all emails to - If you wish for all emails sent from Chameleon-i to be copied to an address, enter the address in here. 
Vacancy default length - Sets the number of days you want any vacancy to be live on your website.
Client portal vacancy length - Sets a default number of days you want any vacancy to be displayed on your client portal.
Website Emails from - This drop-down list allows you to specify who sends out website registration emails and who owns the candidates that have registered on your website.
Defaults - Set a company-wide default priority here for all new candidate and client records.
Vacancy state on close date - this will automatically change the vacancy state when the vacancy closes based on vacancy default length.
Currency - This enables you to set the main currency your agency bills in, and to either set a conversion rate or use the automated update.
Availability Granularity - Set the temps calendar so temps can set if available on a daily or AM/PM/Evening basis.
Block Invoice Reminders - If you wish to stop Invoice reminders, tick this box and save the change, this will disable our invoice reminder system.
Create Autorec CV update alert - this will create an alert to tell you that auto rec has updated an existing records CV.
Sync candidate availability with placement - this will set the candidates availability in line with the placement date.
Autorec documents must have - This section enables you to set what must be found in the CV when creating a candidate record. IF we cannot find the details requested we will fail the CV and not create a record.
Send documents default option - Auto-attach CV in CV send action. Auto-attach terms of business, stored in your admin section, to all outgoing email.
Auto-sequencing - Candidate reference numbers will auto-sequence if this box is ticked.
Invoice details - This link enables you to review details of all your current live charges for using Chameleon-i in the current billing period.
Info - These links details information on the module, please review before ordering.
Order - These links enable you to order user licenses and Chameleon-i options and add-ons, by clicking on the Order link next to the option.
Pay Now button this will only display when an invoice has fallen due, when clicked, you will be transferred to HSBC's Secure ePayments server where you can safely enter your credit or debit card details to settle your invoice.
Logo - You can upload your company logo here.
Banner - You can upload a banner here this will replace the Chameleon-i logo in the main menu with your logo.
Agency Files - Browse and upload any standard company documents you wish to store on file. These will be available to you to attach to an email sent from Chameleon-i.
Tip: Priorities are colour coded. Records are displayed in corresponding colours within the quick search grids depending on the priority that is selected.
Chameleon-i automated billing system will email when your account due to being paid each month. Reminders will then be sent out regularly over the following fortnight until the account is suspended after 14 days.
NOTE: Auto-rec will reject CVs where it cannot find ALL of the things you ask for. So the less you tick, the better chance you have of the CV uploading and therefore being searchable on your database. Look in your Auto-recognition queue for records which need data-checking.