Seamlessly track and store all email and diary activity with our Gmail and Google Calendar Synchronisation Module.
Here is how to set up this feature
Select 'Admin' from the main menu.
Select the 'Users' tab.
Select the User you want to set up from the drop-down list.
In the central column select 'Google Authorise'.
You will see the below pop-up.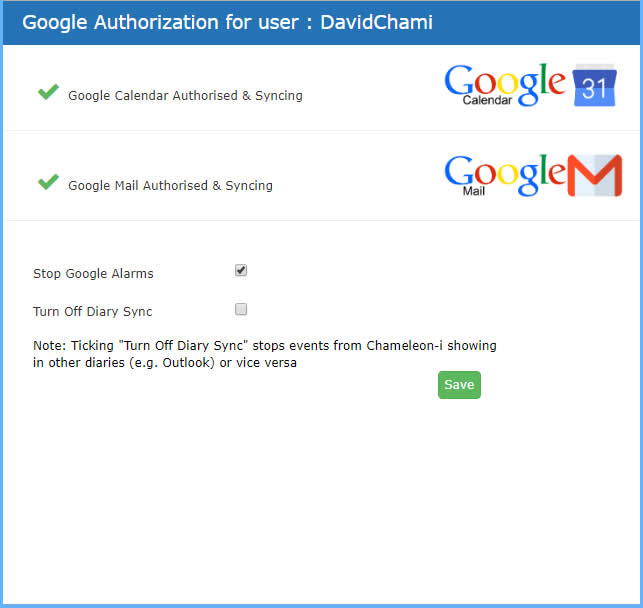 Click the 'Google Mail' logo.
Select the Google Mail account you want to authorise Chameleon-i to sync with.
You will get a success message and the pop will update to say 'Google Mail Authorised and Syncing'.
If you want to sync your diary click the 'Google Calendar' logo and follow the same steps.
There are a couple of options as you can see from the screenshot above
Turn on/off Google alarms, this feature alerts you should we have any issues syncing with Google.
Turn off diary sync. will stop Chameleon-i from syncing with your diary.
Chameleon-i stores a copy of your emails in your account recorded against recognised Client and Candidate records. We do not store attachments automatically, these should be saved if required in the Client or Candidate record. We also make a permanent note that the email has been received or sent in Chameleon-i.
You will be charged £10.00 + VAT per user per calendar month for this module. Please note, if you choose to add the module, it will apply to all members of your agency.