To send bulk emails from Chameleon-i, you must first store your SMTP server details for each user that wishes to send bulk emails, this document will guide you in how to do this.
SMTP server details are provided to you by your ISP, (Internet Service Provider) and comprise of a Server name (Outgoing SMTP mail server) a username and password and a port.

Note: These are often (but not always) the same settings you may have in Outlook. You can find these in Outlooks mail account details. If you don't have these details please contact your ISP.

Exchange and Gmail Synchronisation users do not need to enter SMTP details and can skip this step.

To set up a users SMTP setting please follow these steps
Select 'Admin' from the main menu.
Select the 'Users' tab.
Click 'SMTP Send Mail Settings' button located in the User Options column.
Complete the details in the pop-up shown below.
Enter your details provided by your ISP in the pop-up shown below.
Please note these can be the same as the Outlook account settings.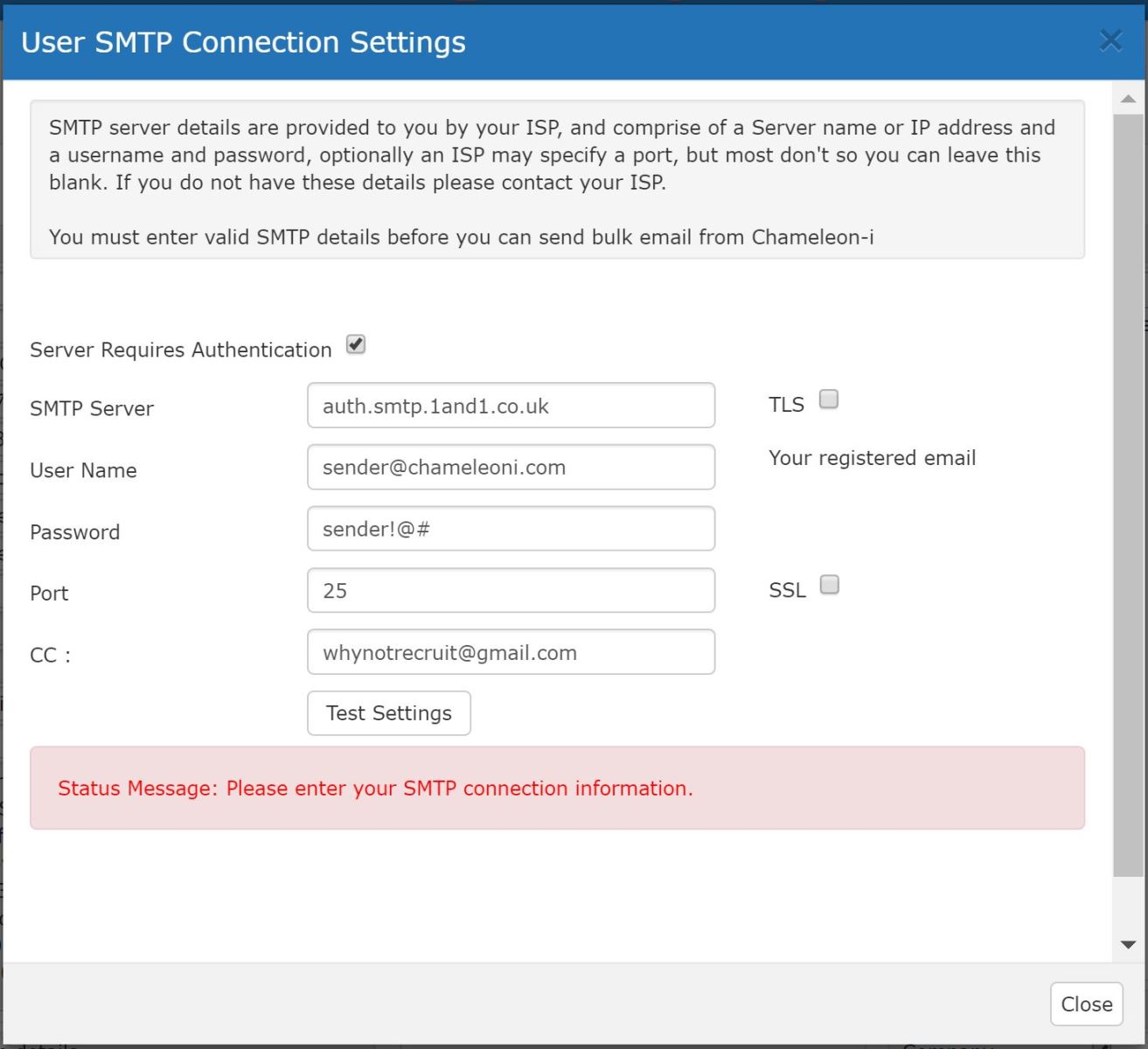 Click the 'Test Settings' button and check the details are correctly entered.
If the details are correct a success message will appear and you will receive a test email.
Click the Close button to save the details to the profile.
NOTE: If the status message displays an authentication error please check your SMTP details are correct. If the message says 'Mail sent' your details are correct and you will receive a test email.
Ensure you update the SMTP details for each user you want to permission for bulk email, if you change your login details you must update them in Chameleon-i too.
Important Information
Chameleon-i is committed to best practice email marketing and does not condone unsolicited commercial email sent from the system. It is your responsibility to ensure contacts are emailed on an opt-in, permission basis and if contacted by email may unsubscribe through a placeholder link in every bulk Email send. If you are sending large quantities of Emails it may trigger your ISP to mark all your emails as spam. It remains your responsibility to ensure your ISP does not blacklist your Email account and therefore your companies legitimate business Email. Refer to our terms of use for details. Bulk Email is treated as 2nd class mail for processing purposes the send priority is kept for action-driven Emails.