Bulk HTML emails offer you a fast, flexible process for sending bulk/marketing emails to your clients and candidates from your database.
Open a contact basket in your database and click on the Bulk Email button.
You can select from one of your email templates if you have one set up.
You can set when to send the email from this drop-down box.
You can Cc and Bcc other users if you need to. Enter the subject of your email if it's not there already.
You have the option to insert headers, footers (signature), create a read receipt and a reminder from the options.
You can attach documents from your PC or associated documents stored in your database.
Send a test email to yourself first to make sure everything is correct by pressing the 'Send to me' button.
When you're ready to send the email to everyone, click the 'Send' button and then Close the email editor down.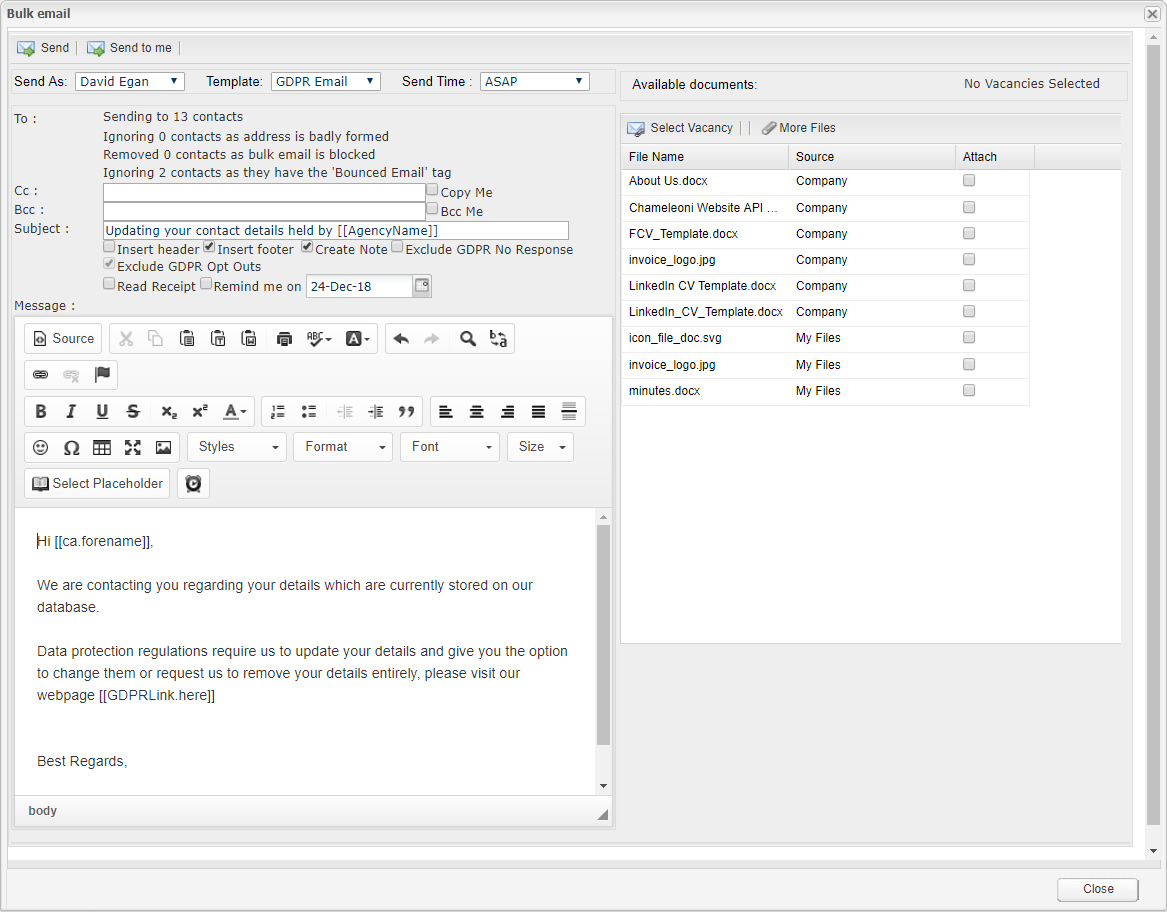 Note your ISP may have restrictions on how many emails can be sent at any one time or within a given time period. Chameleon-i only creates the email just like Outlook and passes it to your ISP who will then deliver it to your recipients.

Please note that when sending a bulk email from Chameleon-i you must include an opt-out facility, this is done using the following placeholder [[unsubscribelink.text]].

This is used to give recipients of your emails a link to click where they can opt-out of receiving any further email generated by the Bulk Email facility. Recipients can successfully unsubscribe if they match the email
address on your database.

The correct syntax for the unsubscribe link is [[unsubscribelink.text]] – when the mail is sent this
will be replaced with a hyperlink to the unsubscribe page with your text inserted.

E.g [[unsubscribelink.don't send me any more emails]] will be translated to don't send me any
more emails.
You can find out more information on how we send emails here and about email limits here.