SMTP server details are provided to you by your ISP, (Internet Service Provider) and comprise of a Server name (Outgoing mail server SMTP) a username and password and a port.
If you don't have these details please contact your ISP. Exchange Synchronisation users do not need to enter SMTP details and can skip this step.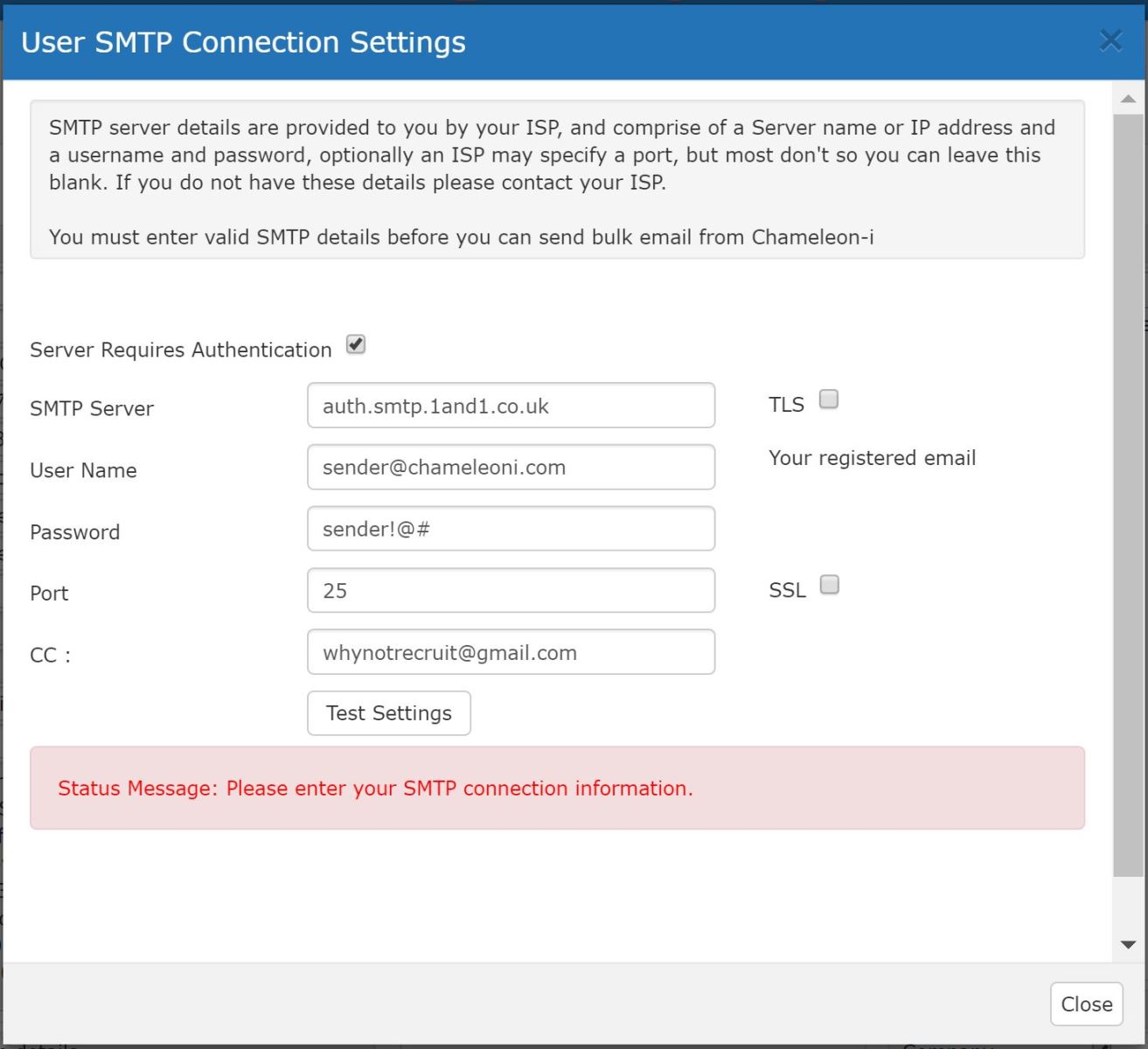 Select 'Admin' from the main menu.
Select the 'Users' tab.
Select the user you wish to edit from the drop-down list.
Press the 'Select' button next to SMTP Send Mail Settings to open the SMTP information popup window.
Enter the details provided by your ISP.
Press the 'Test Settings' button.
Wait for the confirmation status message to be displayed.
If you see 'A test mail has been sent to your account and these details have been saved. Press Close to continue.' Your settings are correct, have been successfully saved and you can 'Close' the popup.
If however, you get an error message double check you have entered your details correctly. Check for Capitals and that dots are in the right place.

Important Information
Chameleon-i is committed to best practice email marketing and does not condone unsolicited commercial email sent from the system. It is your responsibility to ensure contacts are emailed on an opt-in, permission basis and if contacted by email may unsubscribe through placeholder links in every email sent. If you are sending large quantities of email it may trigger your ISP to mark all your emails as spam, therefore a maximum of 250 bulk emails per hour, per SMTP account can be sent through the system to remain within the limit set by ISPs. It remains your responsibility to ensure your ISP does not blacklist your email account and therefore your companies legitimate business email. Refer to our terms of use for details. Bulk email is treated as 2nd class mail for processing purposes the send priority is kept for action-driven Emails.