As we all know for various reasons interviews get cancelled from time to time. The below action will help you manage and record when an interview was cancelled.
When you complete a 1st, 2nd and 3rd Interview action in Chameleon-i it will place a time/date in the Shortlist grid for your records, it will now also insert a button on the right side of the time/date -



Please note: this button only appears if the interview action has happened and there is a date next to the button.
When you press the 'Cancel Interview' button the following pop-up will display.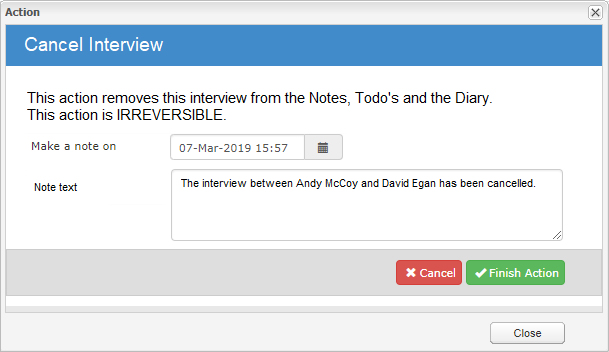 You can edit the note text and the date of the note as required to document when and why the interview was cancelled.
When the 'Finish Action' button is clicked, the date is removed from the Shortlist along with the Delete Interview button. The Interview Note and Todo are removed from the diary and the associated records. Instead, a 'Cancelled Interview' note will be saved against the Candidate, Client and Vacancy record in the Notes tab.