How to clear browser cache on Mac
We all love to surf the web but every site we visit adds to the growing browser cache. Clearing your browser cache doesn't just free up space, it will can also clear your browsing history to secure your privacy.
Browser cache temporarily stores website data such as images, scripts, and other stuff, in order to make your browsing faster when you revisit the same site. If you're worried about your privacy or want to hide pages you've visited, you can clear your Internet cache (or browser history). Also, resetting your browser cache will potentially help to get rid of 404, 502, and other errors caused by corrupted cache.
Each browser has its own cache location, so the process of clearing is different in each case. For instance, Chrome cache location is in Settings, Safari stores its cache in Privacy, and Firefox cache location is History tab.
Here's a quick introduction into how to delete browser cache on Mac.
How to clear cache in Chrome
Here's how to clear browser cache in Chrome manually:
Click the 3-dot icon in the top right corner of Google Chrome browser.
Choose Settings.
At the bottom of the menu, choose Advanced.
Click "Clear browsing data."
Deselect all, but Cached images and files.
Timewise, choose All time.
Hit "Clear data" button.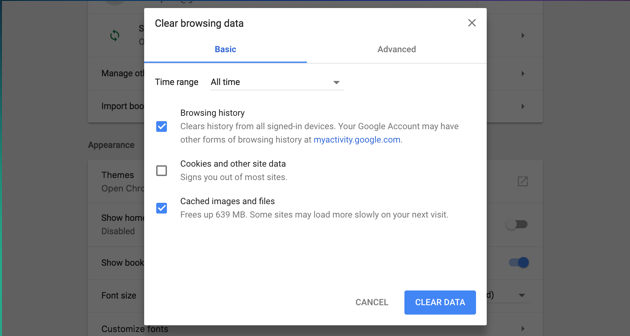 How to clear cache in Firefox
Here's how to delete cache in Firefox manually:
Click the hamburger icon in the top right corner.
Choose Privacy & Security on the left sidebar.
Scroll to the section "Cached web content" menu item.
Now, click Clear Now to delete Firefox cache.
Exit/quit all browser windows and re-open the browser.
In the same menu, checkmark Override automatic cache management and limit the cache size in MB. Go with the default amount of 350 MB, which is enough for most users' needs.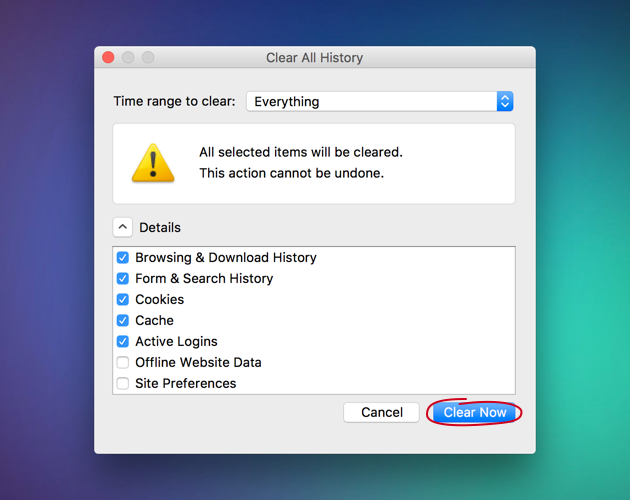 How to clear cache in Safari
Safari is a little trickier than the rest of the browsers. You could remove caches together with all the other website history through History — Clear History in menu bar.
But if you need more precision, here's how to empty cache on Safari browser:
In the top menu, choose Safari.
Click Preferences.
Choose the Advanced tab.
Enable Show Develop menu in menu bar.
Now go to Develop in menu bar.
Choose Empty caches.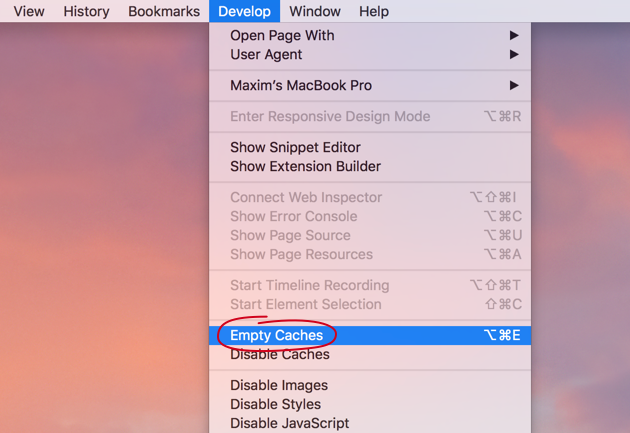 Make sure you close/quit the browser and restart it after clearing cache. Cache clearing can take awhile, so you can try clearing your local DNS cache to speed it up.
Manual methods remove most of the browser junk but if you want to remove all of it, from all your browsers at once, there's a safer and faster method to clear your internet cache on any browser.