Quick communication to applicants is an important part of any applicant process. One of the applicant grids features enables automated emails, these must be set up before you start processing applicants.
To set up default email templates to use with the applicants grid you must have access to the 'CMS' system within the 'Admin' section of Chameleon-i.
To create the default email templates:
Select 'Admin' from the Main Menu.
Select the 'CMS'.
The 'CMS' will default to a 'New' template in the 'Select Page' drop down displaying the HTML information tab when first loaded.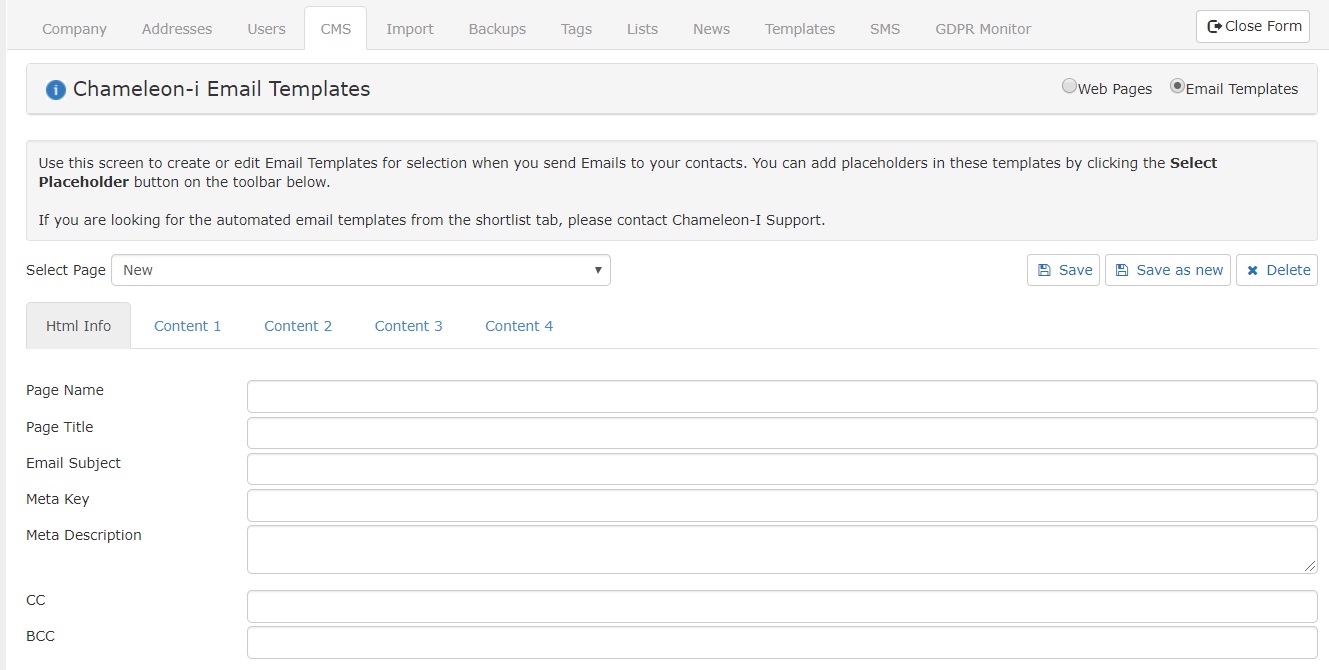 Enter ONE of the below template names into the text box marked 'Page Name'.
Important note: For the email templates to work it is essential that the templates are named exactly as below:
Applicant Email Templates Names
Email Applicant - Green Email

Email Applicant - Yellow Email

Email Applicant - Red Email
The Page Title, Meta Key and Meta Description fields are not needed and should be ignored!
Enter the 'Email Subject' for example: "Thank you for your application"
Now Select 'Content 1' tab to enter the default email message. We have created 3 messages below which you can open, then cut and paste into 'Content 1' to speed up the process.
Once you are happy with the email message press 'Save as new' to create the template. Only Select 'Save' to overwrite an existing previously saved template. Be careful not to overwrite the wrong template.
In order for the new template to be activated in the Flagging action, you will need to refresh Chameleon-i, a simple press of the F5 button or Reload of the browser will do this.
---
These example Email Templates are saved in .txt format and can be opened, then copied and pasted straight from NotePad. Do not open in MS Word as this may cause you formatting issues.