This article explains how to use the Yellow Flag action in the Applicants Grid and the available options.
Select 'Applicants' from the Main Menu to show unprocessed applications.

To Accept candidate(s), tick the tick box(s) for the applications you wish to process and click on the 'Yellow flag' icon. The following pop-up will display.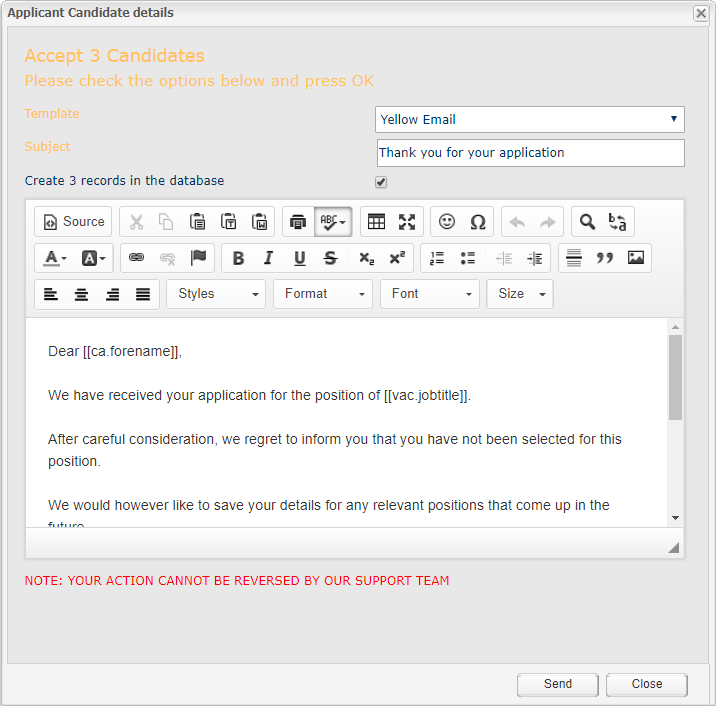 By default this action will:
Send a yellow acceptance email to the candidate(s).
Allow you to create the candidate(s) record.

Note: Changing the email template does NOT alter the overall action, just the email being sent to the candidate(s).
You must use and have the Broadbean/Idibu/Jobmate account details stored in your user profile and the Poll Applicants tick box ticked for this feature to work correctly.

IMPORTANT - To use this functionality with Broadbean, you need to have a Broadbean account, and must notify them that you are using Chameleon-i and supply our API number '3155822314' in order to enable this service.
Chameleon-i continuously collects applications on a rolling cycle basis, however, please note there may be a delay in them appearing in the grid. We recommend you wait 24 hours from activation before you post new vacancies to ensure that all aspects of the service have been activated.
Ensure that you have created your Green, Yellow & Red Email template in your CMS for further information our document 'Creating Applicant Grid Emails'.