The use of tags allows you to have a flexible method of searching and pinpointing records on your database with greater speed and accuracy.
Tags can be added onto your Chameleon-i through Admin and the Tags tab.  Tags can be added to the company, clients, candidates, vacancies and placement records through the use of a 3-tier hierarchy. There are no limits to the number of tags you can create.
Choosing the right keywords to use for tags is essential to the overall success of your Tag searching. You may wish to consider how you want to group and identify records on your Chameleon-i.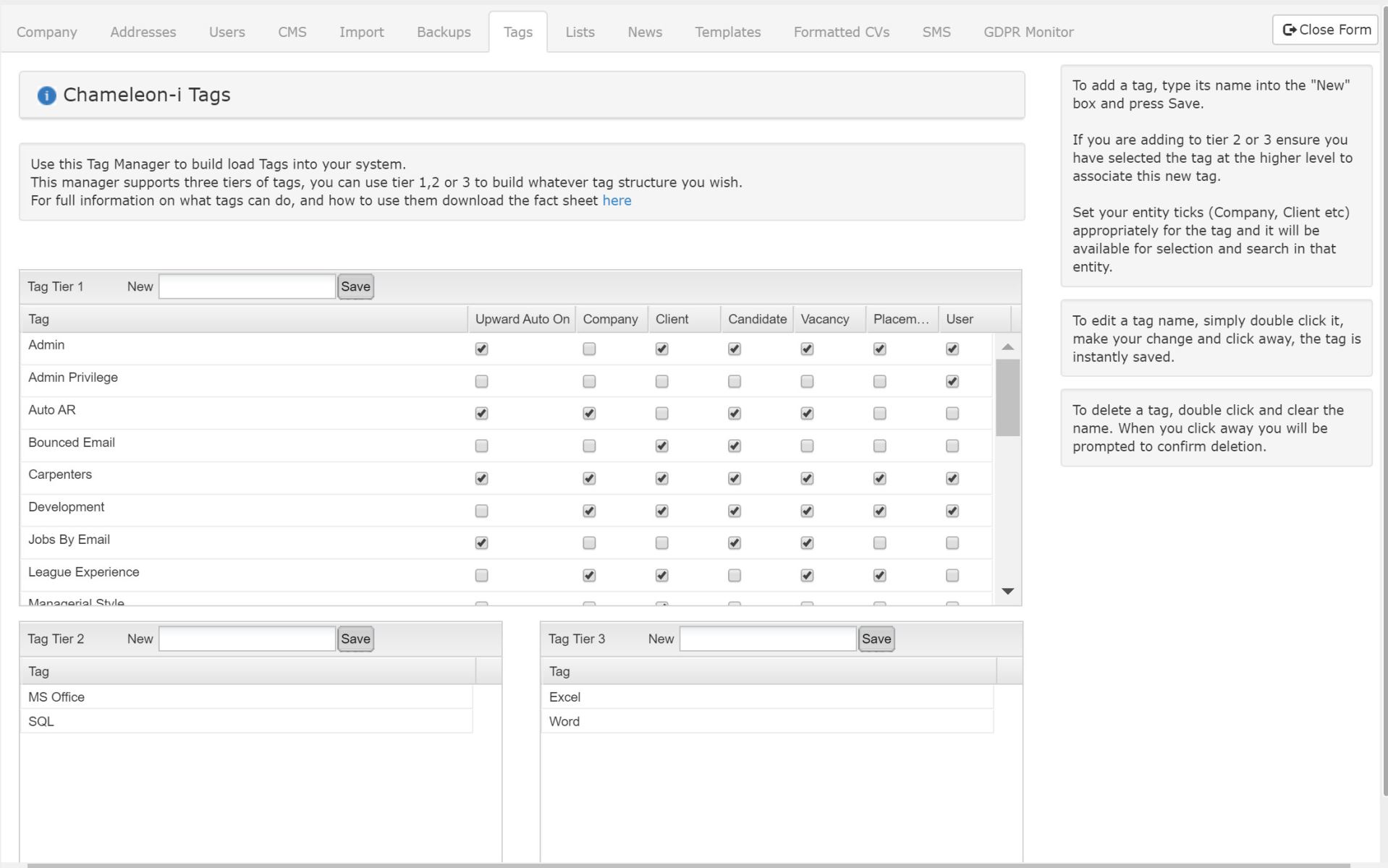 Select 'Admin' from the main menu.
Select the 'Tags' tab.
On this screen, you can see 'Tag Tier 1' in the 'New' input box enter your Tier-1 tag and press 'Save'.
To add a Tier-2 Tag, highlight the Tier-1 tag you wish to associate the Tier-2 tag with, type the Tag name into the text box label 'Tag Tier 2', and click the 'Save' button after each entry.
Once your Tier-2 Tags are in place you can associate another level of tags to them giving you candidates more refined matching.
To associate a Tier-3 Tag to a Tier-2 tag, click on the 'Tier-2 Tag' so it is highlighted, enter the new associated tag name into the box labelled 'Tag Tier 3' and click the 'Save' button after each entry.
Example Tier 1 tags: Area of Expertise
Example Tier 2 tags: List the sectors that you operate in. i.e. Financial, I.T. etc.
Example Tier 3 tags: Depending on how your agency runs you can list either Job titles/roles or more generic job types here. i.e. Financial Advisor, Systems administrator or Sales, Marketing and Management.