An Adhoc search is a one off/stand alone search used for searching candidates. It comprises of three sections allowing you to search using a combination of Tags, Free text Boolean and a combination of relevant Other Details.

To access the the Adhoc search you will need to click the 'Search' button on the Smart Nav, you will find this button located near the bottom of the Smart Nav. Then in grid you will need to select the green 'Candidate Adhoc Search' button located near the top of the grid to open the Adhoc search popup.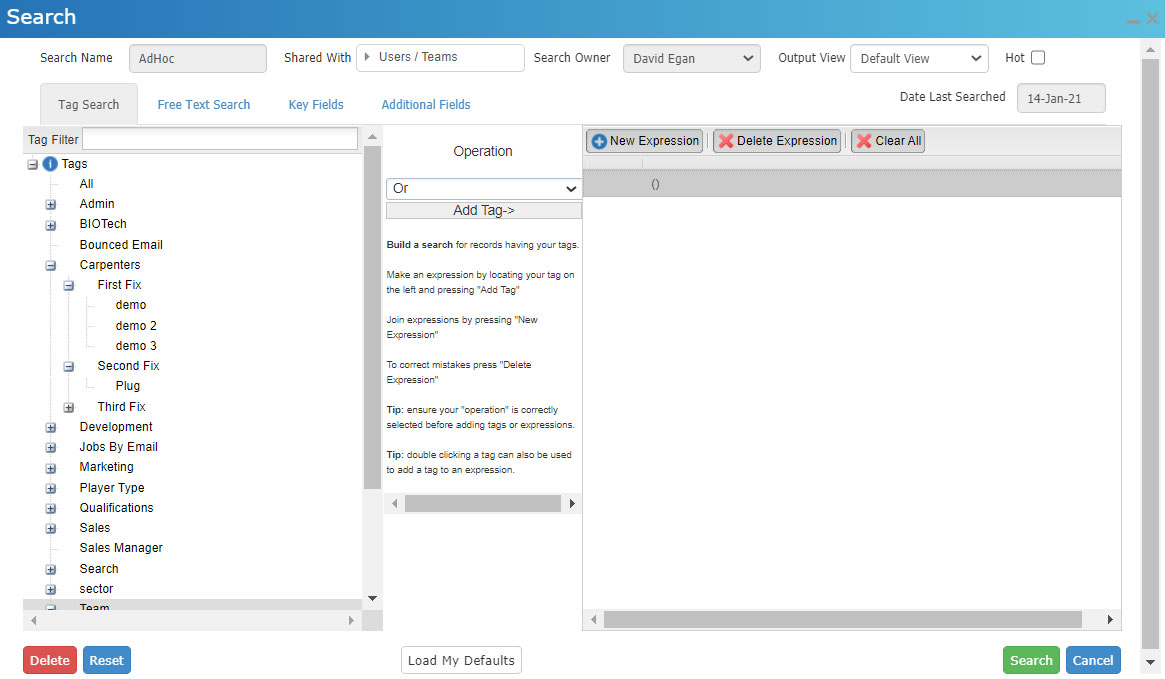 In the Adhoc popup before you do anything else, click the 'Reset' button. This clears any previous criteria from any of the three tabs and ensures no unwanted criteria is added to your current search.
Using the Tag Search, Free Text Search, Key Fields & Additional Fields tabs enter in your relevant search criteria - please remember that the search will include ALL criteria on ALL four tabs not just the tab you are currently on
When you're happy with the criteria entered, click the 'Search' button and the search will run. Bear in mind - the more criteria you put in the less results you may get back - you can start with a general search and refine the search later.
Alternatively, you can hit the 'Cancel' button to go back to your main database.
The Search results will appear in the Candidate grid.
Common uses for results are creating baskets for bulk actions such as Emailing and tagging or shortlisting them against known Vacancies.