On an individual user basis, you can set the data you want to be displayed in your grids when returning search results using 'Custom Views'.
You can create multiple views for all record types creating complete flexibility when searching and review record data.
Here is how to create a custom view.
From the top of the smart navigation panel press the 'Custom Views' link.
This will open the below panel.

For each record type, there is a panel displaying the 'Default View' and any additional views you have set up.
To create a new custom view click the 'Add' button next to the record type you want to associate the view with.
The below pop-up will display, we have selected a candidate for demonstration purposes.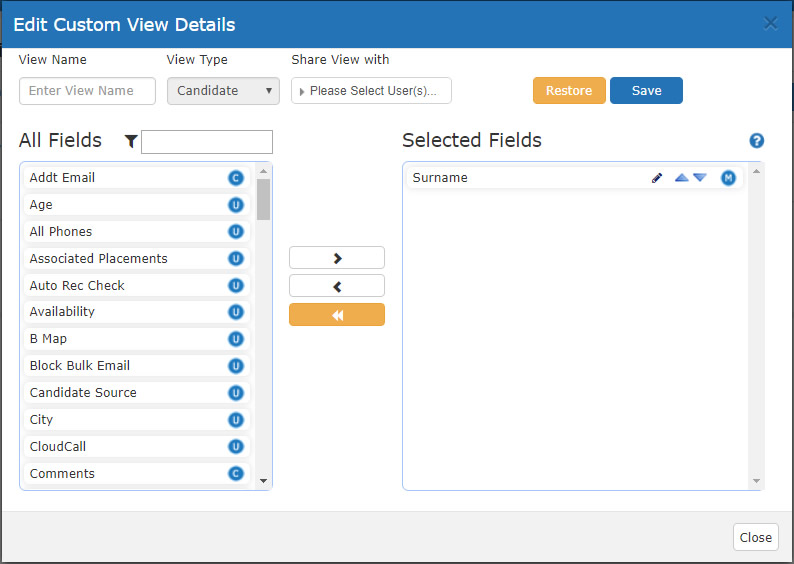 The left-hand panel All Fields shows you the available fields that can be added.
The right-hand panel Selected Fields shows the fields currently selected and assigned to the view, you will note that there are a couple of defaults set that you cannot remove.
Use the control 'Arrow' buttons to add or remove fields to or from your default view.
You can order the columns within your grid by moving the fields up or down the Selected Fields panel. This will order them left to right across your grid.
When you have finished editing the view enter a View Name and press the blue 'Save' button.
Click the 'Close' button to close the pop-up.
When you run a search from the selected grid you will see that you can switch between the default and your new custom view as shown below.

When you select a different view the grid will reload.