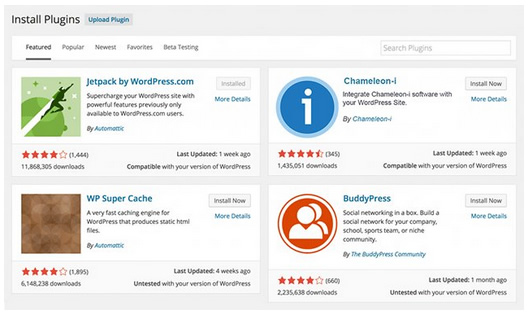 The Chameleon-i plugin for WordPress, the online web development software. To use our plugin search for the Chameleon-i within the WordPress Plugin centre, download and install via your WordPress Content Management System, configure it to your requirements (we have included test data to help with this), then style to fit your desired theme. Once you are happy with your configuration you will need to contact our office for the plugin to be activated.
Our Chameleon-i plugin will add value to your website by giving your agency the ability to:
Vacancy posting – post and manage your vacancies on your website.
Candidate registration – job seekers register their details directly into your database.
Job search – effective job search that delivers relevant results to the job seeker visiting your website.
Candidate application – all applications are delivered directly to your database, ready for you to review.
The ability to report on activity via your Chameleon-i dashboard.
To view our demonstration site click here.
The WordPress plugin has a cost of £50pcm connectivity going forward. The perfect integration solution for startups and big businesses alike!
For more information on integration and monthly hire costs please contact our office on +44 (0)1483 600370.
More information on WordPress……
WordPress is opensource online based software that is used to build responsive websites and web blogs. The core software is built by hundreds of community volunteers along with thousands of plugins and themes designed by developers worldwide which are available to transform your site.
For more information, you can visit WordPress here.