These are the steps to archive a user license in your Chameleon-i account.
Select 'Admin' from the main menu.
Then in the Company tab, click the blue Billing and Account Management button.
Then click the blue slider of the user that you want to archive.
In the pop that opens up, you will be given three choices -

Set user to Archived.
Delete user and all records assigned to this user from Chameleon-i.
Delete and Assign the records to another user's account.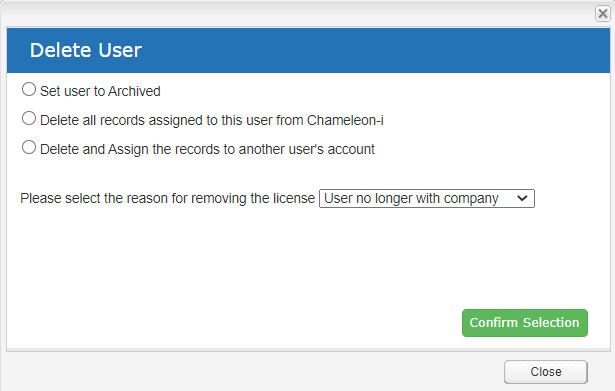 Select 'Set user to Archived'.
Click 'Confirm Selection' to complete the action.
You will be charged £5pcm for archived accounts. You can reactive this account by contacting our support team or fully delete and re-assign All records to another user in the future when an archived account is no longer required.
Please ensure that any baskets owned by this user that are still in use are shared with a non-archived user as these will no longer be accessible once the user is archived.