Before starting, double check that your Exchange Mailbox is on an Exchange Server running EWS - this is necessary to ensure we can synchronise successfully and is not provided by Chameleon-i.
Once you have done this, here is what to do
Select 'Admin' from the main menu. Select 'Users' tab.
Select the user from the drop-down you want to set-up.
Click the 'Select' button opposite Exchange login details.
The following pop-up will display.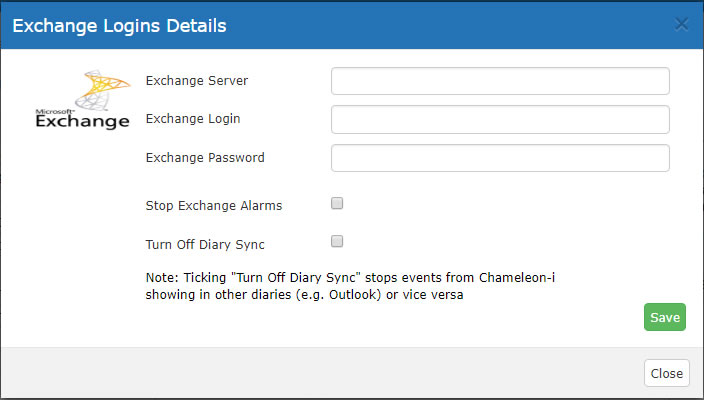 Now enter the Exchange details provided by your Exchange Mailbox provider.
If you don't want to receive an alarm if we cannot synchronise your mailbox, tick 'Stop Exchange Alarms'.
If you do not want to synchronise your Chameleon-i diary and your Outlook diary tick the 'Turn Off Diary Sync'.
Click the 'Save' button.
If you get an error message then your Login details are not correct, please contact your mailbox provider and double check the server URL, Login and Password details are correct.
Important: If you change your username and/or password for your exchange mailbox, you must update these details in Chameleon-i, failing to do so will suspend your sync services.
IMPORTANT: Please also ensure that you also disable conversations on your mailbox, we are unable to sync ALL emails if conversations are enabled.